Lately I've been wearing heels so much that my feet have really yearned for some comfortable haven. And after rummaging through my brain…I realised that no matter how comfortable my Lanvins, Marc Jacobs or Chloe pumps are, they still start to hurt after standing on my feet all day. And who can rival Ugg boots in comfortability? As much as I love fashion, I am a slave to comfort, after all 'Luxury is comfort'.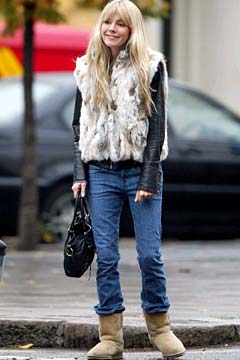 Plus, after seeing Sienna in her Uggs, who could resist?
Before I go on to tell you how wonderful Whooga Ugg boots from the UK are, I have a few funny stories to share about Ugg boots.
1. My father-in-law was apparently a champion of ugg boots. According to my mother-in-law, Dad started the Ugg boot trend over 2 decades ago in Canada!!!  He certainly is a creature of comfort
2. I met a good friend of mine through my Ugg boots. One day during my uni days, I can still rememebr clearly I was wearing a red jacket, a black pencil skirt and my Uggs. The outfit looked better than it sounds, at least it did to this stranger. She was one chic lady and she asked me about my boots. She had never seen a pair that rolled down at the knee. We became friends instantly.
3. Earlier this year my cousin came to visit Melbourne and wanted to buy a pair of Uggs. She ran out of time as she was busy sight-seeing so I ended up saying farewell to my beloved Uggs (it was so painful). Now someone has warm feet in Taiwan.
So now onto Whooga Boots:  They are made from real sheep fleece with sheep's natural skin oil lanolin to provide extra nourishment to our feet. So these Uggs are really soft and warm and promote better circulation. I always have cold extremities so this was a big bonus for me!
If you want to get your tootsies into some of these ultra-luxurious Whoogas, click here to win! And since my loyal readers are all stylish and amazing, the floks at Whooga have created a special discount code especially for my readers! Type in  802CECYLIA for an extra 10% off. Enjoy sheepskin comfort!